In Conversation: Authority Creative Q&A
Inspiring Spaces, Transforming Communities:
Unveiling The Power Of Public Art
In conversation with Coronation, we are delighted to introduce you to Amy Roser, the visionary Public Art Curator at Authority Creative. Together with her exceptional team, Amy has played a pivotal role in guiding Coronation's public art program, leaving a lasting mark on our projects.
Our partnership with Authority Creative traces back to the very early stages of The Paper Mill Liverpool, where their creative mastery became instrumental to the success of the project. Together, we witnessed the transformative influence of public art firsthand, as it beautifully shaped and enriched our communities.
Ever since Authority Creative has become one of our chosen partners across all of Coronation's developments.
Their artistic ingenuity has continuously captivated us, most recently through a mesmerising collaboration with Milne & Stonehouse on an installation artwork for our Parramatta project, Charlie Parker, a project we look forward to telling you more about soon.
For now, join us as we delve deeper into the remarkable work of Authority Creative, as Amy Roser sheds light on a world where art seamlessly intertwines with the very fabric of our communities.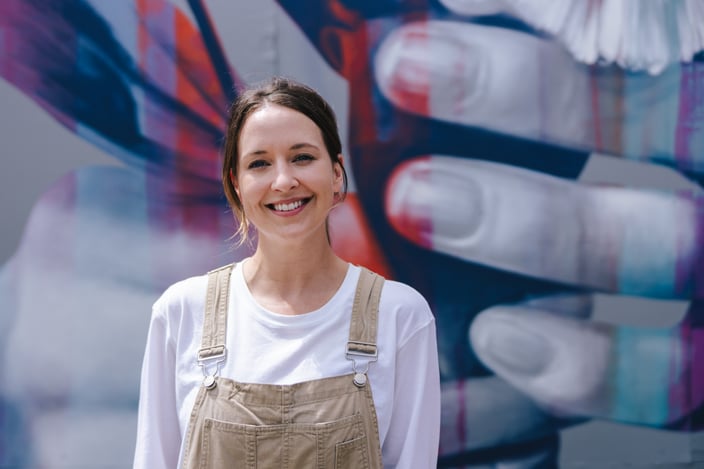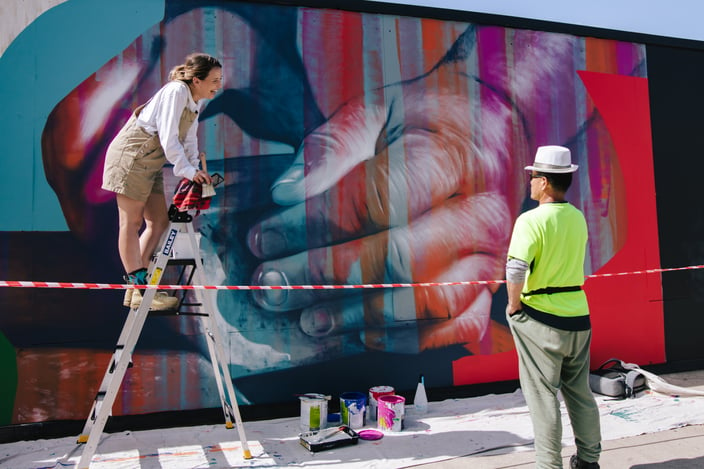 How would you describe Authority Creative and the work that you do as curators?
At Authority Creative, our team specialises in contemporary public art curation, production, and cultural activations across Australia and New Zealand. Working closely with local emerging and established artists, we develop site-specific public art strategies and responses that are aimed at reflecting the unique identity of each location and community. Over the past decade, we've created a portfolio of dynamic permanent and temporary artworks in the public domain.

How do you feel public art impacts the way a place is perceived; do you have any examples?

There is an increasing awareness of the impact of our surroundings on our well-being and sense of belonging. We seek to develop spaces that allow us to connect artistic vision with the community and encourage engagement with the physical structures around us. Permanent public art, being designed for shared spaces, has the task of being enduring and accessible. We see it as needing to strike a balance between historical elements and innovative approaches that address local contemporary culture - which can help build or strengthen the identity of a suburb. Public art serves as a means of communication and provides immersive experiences that can be compelling, playful, intriguing and evoke awe in our surroundings. These moments of relating to an artwork can have a meaningful impact, helping us find purpose in our daily lives, providing context and depth to our day-to-day environments, and fostering connection within communities.
Knowing that every neighbourhood has a unique cultural identity, what is your process for prospecting potential artists for a new project, and how does this differ from project to project?
Neighbourhoods, including the architectural objects that inhabit them, comprise many elements and layers of space that are shared. While some buildings and areas may be privately owned, the public areas impact everyone who lives, works, and moves around them; they hold collective significance and therefore shape and colour our day-to-day lives. We take this into account when shortlisting artists, we consider the character of an area, which may include local flora or fauna, significant events or cultural demographics. Buildings serve an important function that isn't merely one of utility but of meaning. Public art plays a significant role in fulfilling this aspect, which involves creating nuanced environments that nourish our mental and emotional selves, our approach must vary to tease out the site-specific stories that provide suburbs their distinctiveness.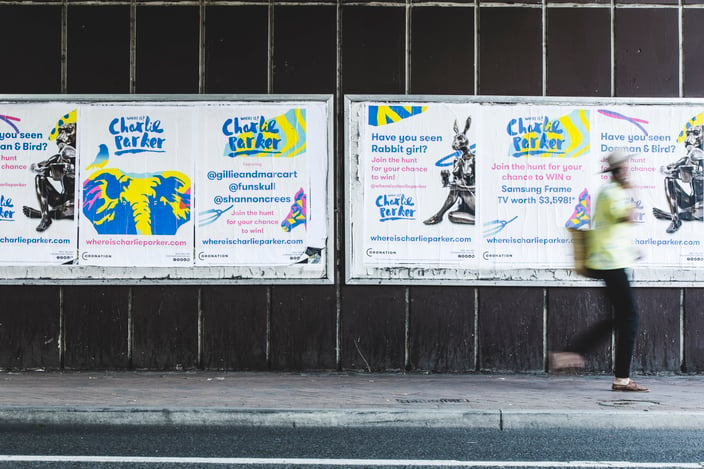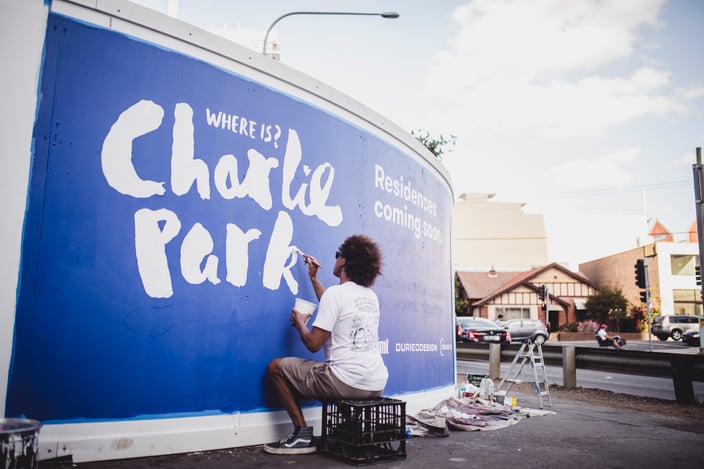 Coronation and Authority Creative have worked together on many of our projects, including The Paper Mill, 8 Phillip Street, Charlie Parker, and Mason & Main. Why do you think our partnership has been so successful?

Our partnership has been successful mainly due to Coronation's commitment to investing in the arts. From the initial stages of project planning to the execution and delivery, we have maintained an open and transparent line of communication. This has enabled us to effectively exchange ideas, address any challenges, and make informed decisions together. The trust we have built over time has fostered a collaborative, respectful, and productive working environment, which has enabled a sense of fun to develop. Coronation Property's desire to support and promote the arts has provided a strong foundation for our collaboration and has allowed us to align our creative vision and goals.
We loved the work you did on the Charlie Parker campaign; we're always looking for impactful, yet thoughtful solutions within our public art projects, can you tell us about your experience on this project and what this meant to you?
Charlie Parker was one of our favourite projects to date. Not only did Authority Creative work with some beautiful artists to create the brand identity for Charlie Parker but our services spanned further than public art and marketing. Our close friend Shannon Vos was engaged through Authority Creative as the interior designer for the display suites and we worked closely with Shannon to curate the art for these spaces. Photo media artist Billy Zammit was also engaged to document the people of Parramatta which helped add a human element to the story. Charlie Parker was an example of how our projects bring together a range of creatives, collaborating effectively to produce not only artwork but a narrative for a shared place.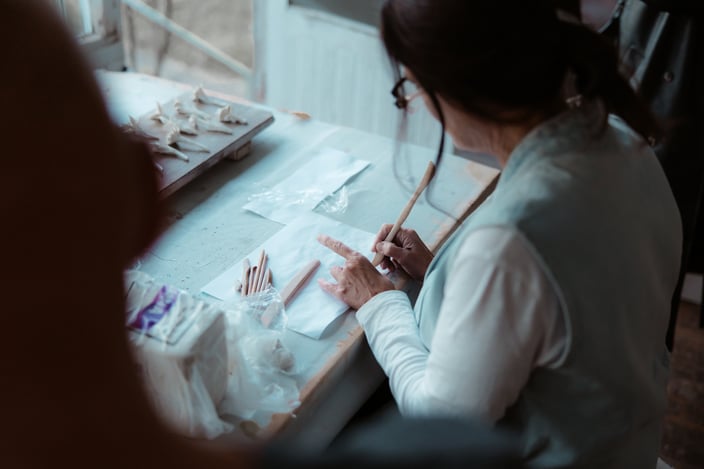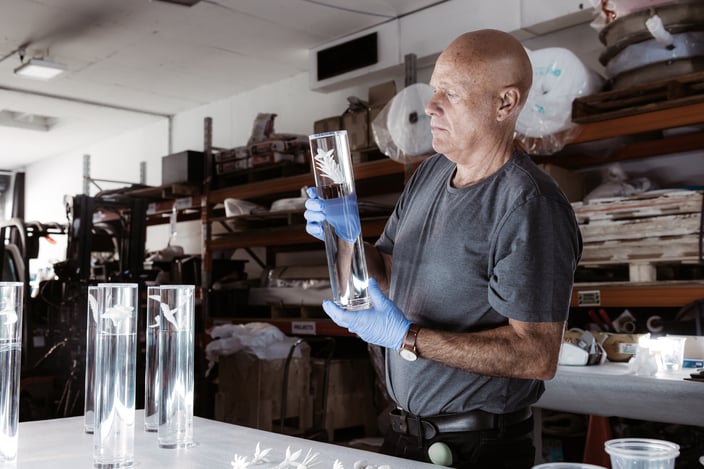 Was there anything unique that you had to consider when speaking to Paramatta's provenance and progress?

Commissioning works of art in public spaces requires a delicate balance between incorporating historical elements and fostering innovation. Artists are often tasked with responding to the past, present, or future of the site, and it is through their interpretation that we receive the most captivating and imaginative responses. In this instance, Milne & Stonehouse were chosen for their meticulous and thoughtful approach to portraying the local flora and fauna, highlighting its significance in sustaining the community both in the past and for generations to come. The production of this artwork intertwines a palpable sense of storytelling, discovery, and innovation in incorporating soft lighting in the atrium.
Our partnership with Authority Creative has emerged as a powerful force in our quest for public art brilliance. Together, we have embarked on transformative projects that not only illuminate the profound impact of public art on communities but also underscore the invaluable expertise offered by Authority Creative in the realm of public art consultancy.
Learn more about our current projects and how Coronation is redefining the experience of home – here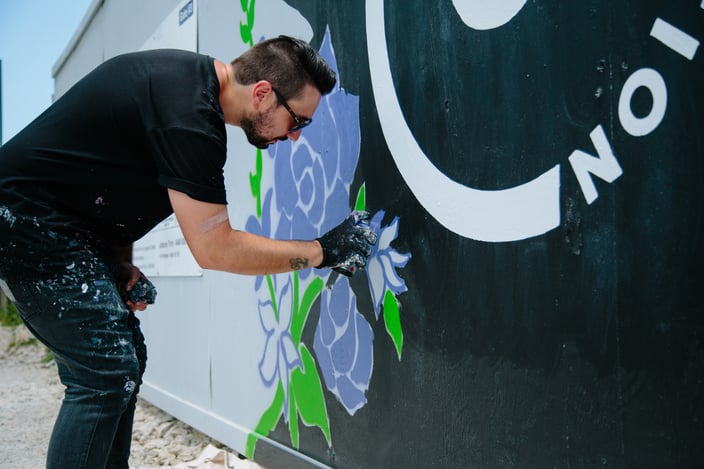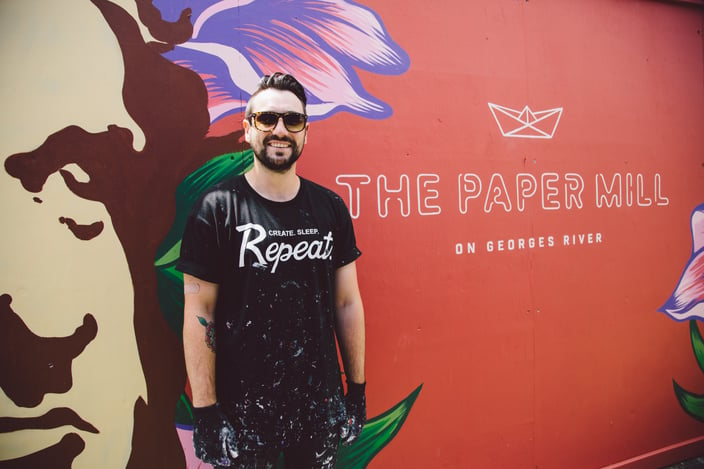 https://coronation.com.au/media/in-conversation-authority-creative