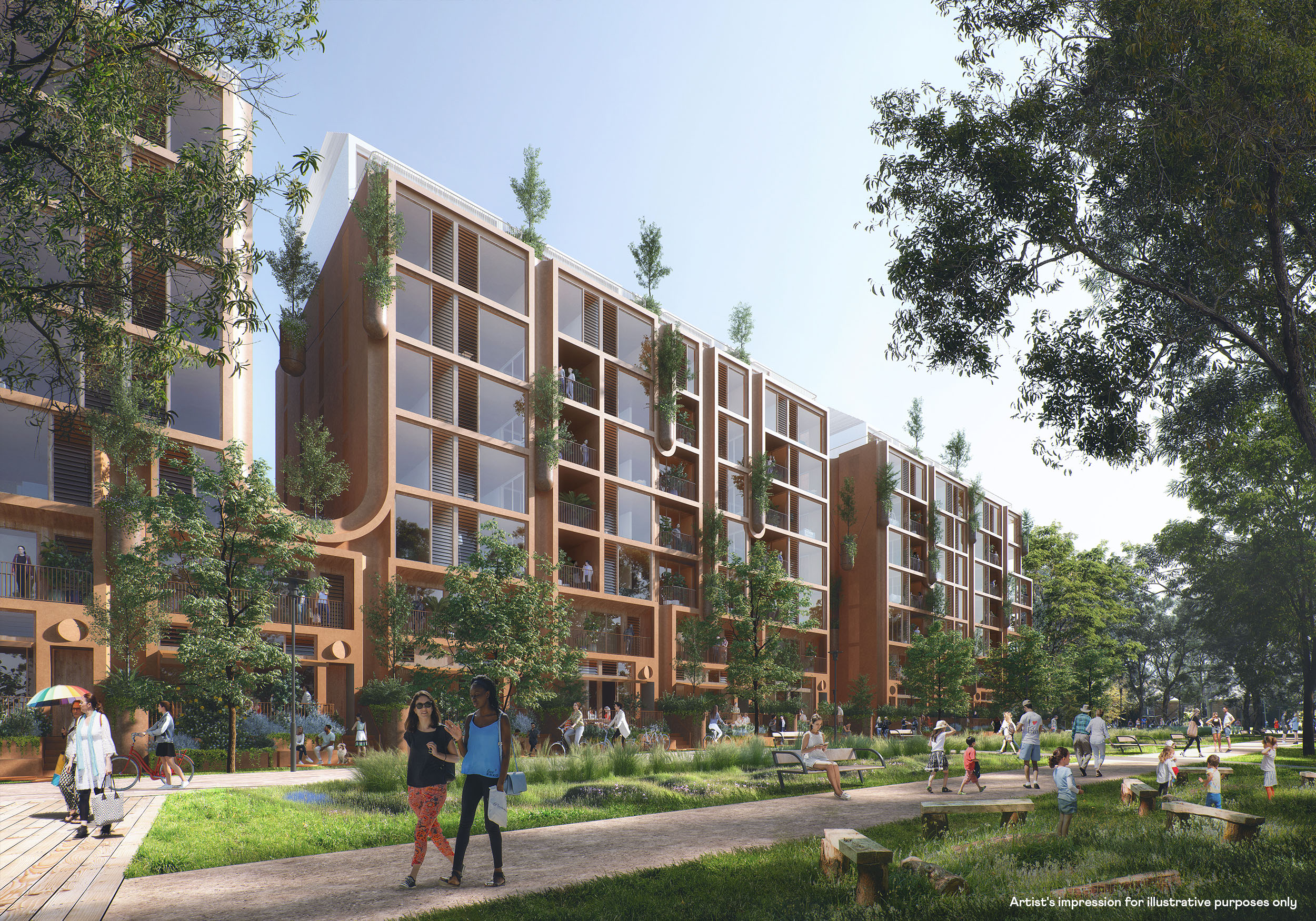 Sydney, 22 May 2023 – Leading Australian property group, Coronation Property reveals exciting plans for the first stage of its inner-city urban transformation project that will convert a 50,000sqm industrial site in Erskineville into an aspirational new lifestyle destination for Sydney.
Located at 57 Ashmore Street, at the crossroads of 165-175 Mitchell Street, Coronation acquired the site for $315 million in June 2022 from developer Greenland Golden Horse.
Joe Nahas, Managing Director at Coronation Property, said "Our $1.5 billion masterplan will be an incredible addition to Erskineville's urban landscape, acknowledging the character of the suburb while delivering a new standard of living to the area. As the largest remaining unencumbered parcel of land in the City of Sydney, Coronation is proud to join the neighbourhood with this significant development."
"The site is only 4km from Sydney's CBD and situated close to major education, health, and transport hubs yet has been sitting inactive for several years. Our grand vision will reinvigorate the site with our commitment to deliver world-class design, and innovative placemaking to inner-Sydney," continued Mr Nahas.
Coronation's impressive plans will supply approximately 1,000 much needed new homes to the Sydney market including a mix of premium build-to-sell terraces and apartments, as well as high-quality build-to-rent dwellings, all designed to cater to the needs of the discerning urban dwellers living in and around the creative enclave of Erskineville.
A new approximately 7,500sqm public park, the future McPherson Park, will sit at the core of the new neighbourhood with lush green space, unique public art installations, and verdant tree canopies providing residents and the surrounding community expansive open spaces to connect, relax, or exercise.
Access to the site will be enhanced with a new approximately 20-metre-wide vehicle-free boulevard weaving through its heart – wider than Pitt Street Mall, the shared pedestrian and cycling pathway will provide convenient access to 5,000sqm of specially curated retail, and an activated park-facing dining precinct.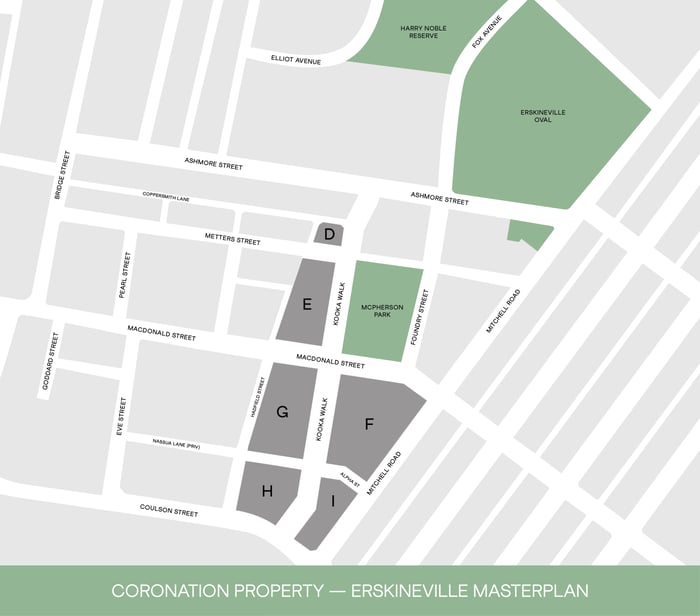 Coronation recently completed a City of Sydney Design Excellence competition for Residential Building E of the development and is thrilled to announce the winning submission was awarded to Surry Hills-based practice Silvester Fuller.
The Selection Panel's decision was unanimous commenting, "The proposed scale and form are highly responsive to the surrounding existing and future development and presents a strong relationship between the park, the street and the through-site link."
"The ground floor internal circulation ('internal street') is well planned. The internal street also connects well with the through-site link, enhancing the pedestrian experience. The entries to the building were highly legible and have a powerful address to the public domain areas, particularly the northern and southern street frontages," continued The Panel.
Penny Fuller, Silvester Fuller Director elaborated, "Our scheme balances the playful and the pragmatic, the whimsical and the wise, wrapped in an overall concept focused on creating uplifting spaces to be in and around – a building to make you smile. Our park edge location has informed a close relationship between building and landscape, with suspended trees animating the building facades and public ground plane."
The City of Sydney Council granted development approval in March this year for six luxury, three-storey townhouses for Building D with a winning scheme by emerging practice, and Redfern locals, Andrew Burns Architecture.
Andrew Burns explained that the practice was founded on designing terrace homes in and around Erskineville.
"In a way, this project with Coronation Property is a return to our roots. We have endeavoured to introduce the crafted quality of bespoke architectural houses into the design of the terraces."
"Our vision was inspired by the neighbouring Victorian-era terraces found in Erskineville and across inner-city Sydney. We drew on the idea of the 'grand terrace' that traditionally comprises a group or row of adjacent terraces forming a larger structure while retaining an individual identity for each dwelling," continued Mr Burns.
Coronation's plan for vital infrastructure upgrades across the site are well underway to yield long-term benefits for residents, visitors, and the surrounding community.
David Cremona, Coronation's Group General Manager commented, "Our primary focus is to make a positive contribution to the community. To achieve this, we are working closely with the City of Sydney Council and expert consultants to upgrade critical infrastructure."
"Importantly, our delivery team is working on devising precise strategies to ensure that these infrastructure upgrades, and the construction of new structures is carried out smoothly and efficiently, with the least possible inconvenience to the surrounding community," continued Mr Cremona.
Coronation is scheduled to complete its 'Charlie Parker' development in late-2023, delivering 126 new homes to Harris Park, while the organisation has a robust pipeline of mixed-use projects underway across Sydney including Mason & Main in Merrylands, Ashbury Terraces in Ashbury, 8 Phillip Street, Parramatta, Moore Point in Moorebank, and is in planning stage on a project in Chatswood.
Our Erskineville project was featured in the AFR. Read the full article here.
https://coronation.com.au/media/coronation-property-reveals-first-stage-plans-for-its-1.5-billion-urban-rejuvenation-initiative-in-erskineville