LATEST THINKING
Mixed-use Tower Adds to the Transformation of Parramatta
MIXED-USE TOWER
PARRAMATTA
CORONATION PROPERTY HAS BROKEN GROUND ON A LANDMARK 55-STOREY MIXED-USE TOWER WHICH IS SET TO TRANSFORM THE HISTORIC PARRAMATTA RIVERSIDE PRECINCT WITH LUXURY RESIDENCES AND WESTERN SYDNEY'S FIRST QT HOTEL.
State Member for Parramatta, The Hon. Dr Geoff Lee MP said the commencement of the 8 Phillip Street project marks another important step in the ongoing transformation of Parramatta, Australia's second-oldest city.
"Not only does it add more in the way of much-needed housing for the people of western Sydney, it also combines five-star hotel accommodation – a trend which is seen in major cities across the world, such as New York."
Aras Labutis, Director of Urban Transformations at Coronation Property said it was exciting to see the project break ground after a lengthy development approval process since the project's launch in 2016.
"We received development approval at 8 Phillip Street in mid-2018, but given the historical nature of the site, we then commissioned an extensive archaeological investigation with substantial test pit excavation occurring," detailed Mr Labutis.
"THIS PROCESS TOOK A GOOD 12 MONTHS, IN ORDER TO ENSURE NO SIGNIFICANT HERITAGE OBJECTS OR FEATURES WOULD BE DAMAGED DURING THE CONSTRUCTION PROCESS."
ARAS LABUTIS, DIRECTOR OF URBAN TRANSFORMATIONS AT CORONATION PROPERTY
"We then began the careful process of undertaking a detailed salvage deconstruction of the St Andrew's Church Hall, so it can ultimately be reconstructed and integrated into the completed project as the feature of 8 Phillip Street's stunning new residential entrance."
Mr Labutis said over the last 12 months Coronation Property has been collaborating with the teams from Sydney Water and Parramatta Light Rail on the realignment of the existing street-level infrastructure, to ensure a coordinated approach to the redevelopment of the Phillip Street precinct.
"Of course delays with landmark projects of this nature are often to be expected, however, we are now confident that we have complied with all site requirements and approvals, and we're looking forward to seeing the project begin to take shape."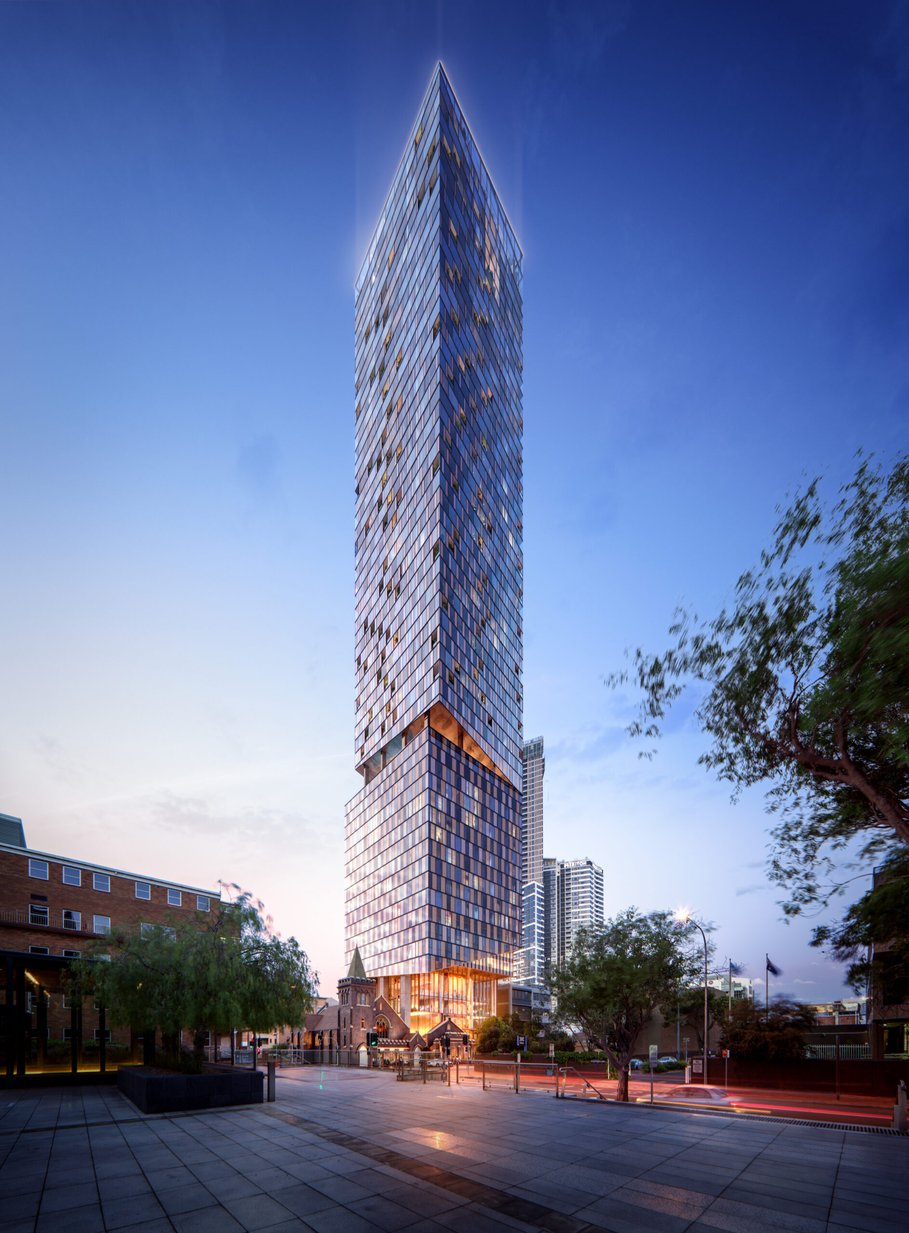 The 8 Phillip Street tower will scale new heights for Western Sydney residential living, with 314 luxurious one, two and three-bedroom apartments, as well as studios and penthouses.
Incorporating striking contemporary design elements, including high-quality joinery and innovative windbreak balconies, 8 Phillip Street will offer residents configurable outdoor living spaces as well as a pool on the 18th floor.
The Woods Bagot-designed tower will be a dramatic presence on the Parramatta skyline, with its twisting rhomboid design and mesh-embedded glass cladding a first for Western Sydney, ensuring the building's status as an instant Parramatta icon.
Beneath the 35 storeys of apartments, the building will include a 250-room QT Hotel over 18 storeys, complete with a signature restaurant, multiple meeting and event spaces and a grand ballroom.
One of Rockpool Dining Group's signature restaurants will also be included in the precinct's food and beverage offering.
Joe Nahas, Managing Director of Coronation Property, said the project will add another level of sophistication to the Parramatta landscape and will benefit the entire community.
"IT WILL SET THE BENCHMARK FOR MIXED-USE APARTMENT DEVELOPMENTS, NOT ONLY IN PARRAMATTA, BUT INTERNATIONALLY."


JOE NAHAS, MANAGING DIRECTOR OF CORONATION PROPERTY
"This development is truly visionary and even exceeds the high standard of design we insist on."
Article originally published in Build Australia August 3 2020.
https://coronation.com.au/media/mixed-use-tower-adds-to-the-transformation-of-parramatta